Crepe Dress Fabrics: Time to Party!
As the UK government's roadmap out of COVID lockdown progresses, restrictions on social distancing will gradually be lifted. This means that many postponed special events, like weddings, proms and birthday parties, will happily be able to take place. If you're planning on attending such an event then NOW is the time to start creating the perfect outfit using top-quality fabrics from Croft Mill.
This edition of the Croft Mill blog focuses on our vast selection of crepe fabrics.
Crepe fabrics come in a variety of different formats, which makes them especially versatile and suited to creating a wide range of different garments. Heavier weights offer body and strength, making them perfect for crafting structured garments like jackets and trousers. To create garments with a sumptuous drape, it's better to use crepe of a lighter weight. Some crepe fabrics incorporate plenty of stretch, making them easy to wear and so especially good if you're planning on dancing the night away!
Georgette crepe, sometimes known as chiffon, is a single crepe that is sheer and super-lightweight. Its floaty, ethereal quality makes it an ideal choice for a prom dress or other special occasion garment and its also great when you're going for a layered look. We supply Georgette crepe in a massive array of different colours including Black, Blush, Claret, Dark Purple, Espresso, French Navy, Ivory, Nude, Lemon, Porcelain and many others.

Double crepe fabrics are slightly heavier but still boast a wonderful drape. They are particularly popular for creating stunning outfits to be worn by the mother of the bride. Our superb Candy Crepe collection offers many different colours of double crepe including Peach, Tan, Red, Purple, Violet, White and Grape. Simply stunning!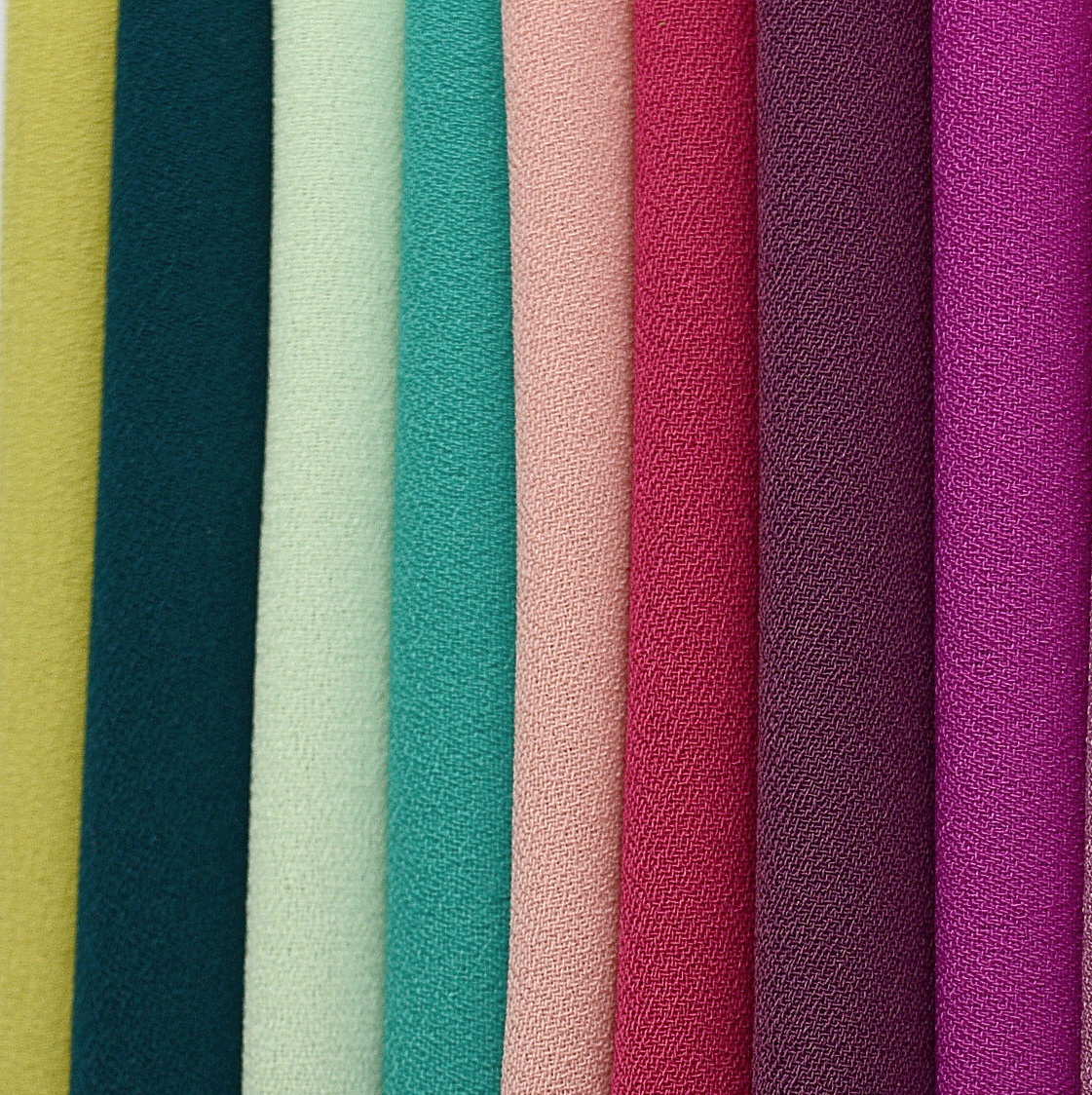 Triple crepe is heavier still and brings with it the added bonus of not requiring any lining. It's often chosen to create delightful bridesmaid dresses. Once again, you can choose from a rainbow palette of different colours of triple crepe fabric, including Jet Black, Fuchsia, Lime, Ivory, Silver and Teal.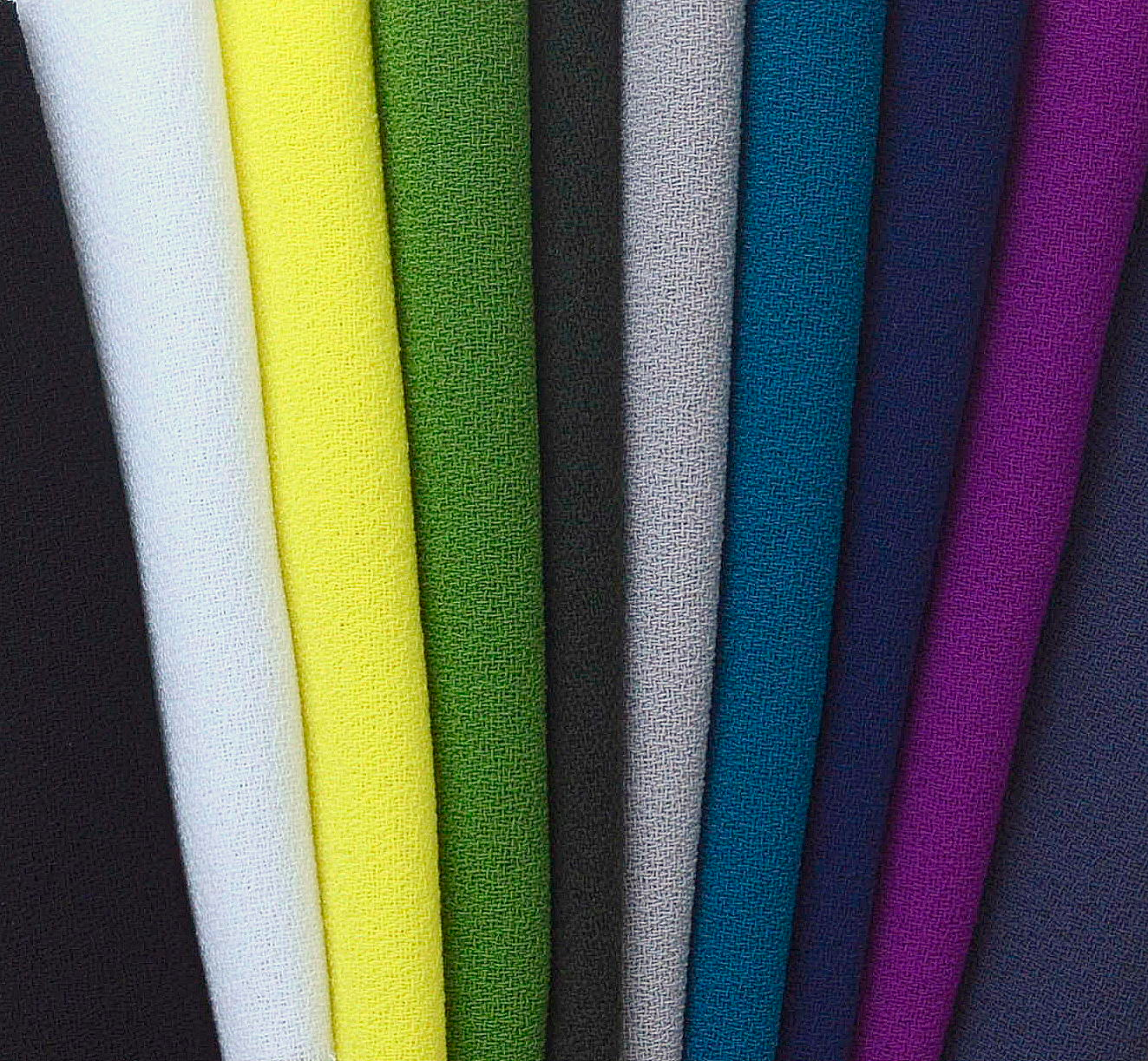 As it has such a luxurious quality, Crepe de Chine is one of the most sought-after types of crepe fabric. Crepe de Chine is crafted in a special process using yarns that have been tightly twisted; this gives them their distinctively smooth matte finish that sets them apart from standard crepe. Lightweight, versatile and with an utterly divine drape, Crepe de Chine fabrics are available from Croft Mill in a host of colours and designs, all of which are ideal for crafting special wear.
Another special type of crepe fabric is scuba jersey which is a double knit fabric like Ponte Roma. The difference is that scuba fabrics tend to have a composition of polyester while Ponte Roma fabrics combine lycra and viscose. A key quality of scuba crepe is that it combines exceptional stretch with impressive recovery: these qualities make the fabric especially easy and forgiving to sew with, as well as resulting in garments that feel superbly comfortable to wear.
JK Picasso - This is a superb quality polyester Madrid crepe dress fabric from John Kaldor. It is a soft fabric that drapes beautifully, and is a delight to wear! Although this is a very soft fabric, it is firm enough to be able to easily sew & not be see through.

Printed Pastel Crepe - This gorgeous fabric is 136cm wide. It is a polyester crepe with abstract of a sand floral pattern, and is perfect for your go-to summer dress! This beautiful pattern is available in red, purple, mauve and olive green on a soft peach background.

Check out the Croft Mill website to discover our complete collection of crepe dress fabrics!