Get Your Spook on! Skull Prints for Halloween!
All Hallows' Eve, better known as Halloween, is celebrated in many countries on 31st October. Though originally a religious observance, Halloween is now a celebration of all things spooky and is a great excuse for a bit of dressing up! If you're heading out trick-or-treating with the kids or attending a fancy dress party then make sure your costume is completely original by making it yourself.
Skulls are a classic motif for Halloween with their grisly associations with death. Here at Croft Mill, we have got a wide variety of fabrics that incorporate skulls in their design and so are ideal for creating costumes and crafts to celebrate Halloween in style.

This cotton poplin fabric features an unusual abstract print of skulls in a design that creates an interesting camouflage look. The skulls are rendered in varying shades of Black and Grey to produce an otherworldly effect.

A denim chambray fabric has been printed all over with an eye-catching print of skulls and crossbones in White. The fabric is lightweight at just 25gsm and is perfect for creating all different kinds of garments and crafts.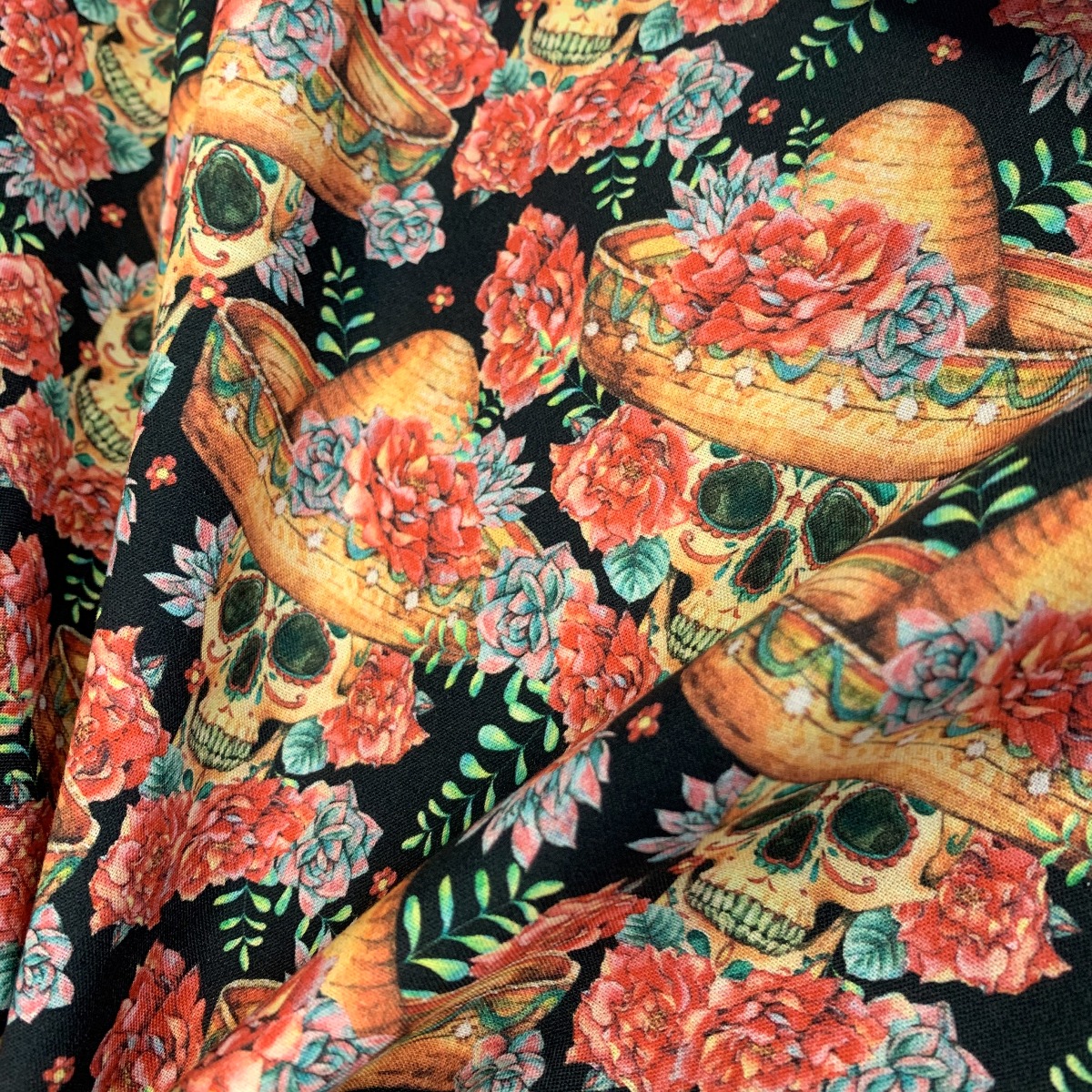 This stunning Korean craft fabric is created by top designer John Louden and shows that Halloween doesn't have to be all about dark colours. The printed design combines skulls and roses in an explosion of colours.

Available with a choice of base colours (Black or Cerise), this is another multicoloured design that combines skulls with floral motifs. The fabric has a wonderful retro look and weighs in at 140gsm.

The skull and crossbones motif is firmly associated with pirates and this style is a popular dressing-up idea for Halloween costumes. Lethal is a cotton poplin print in Black with white skull and crossbones motifs: an instant classic!
We will be adding more Halloween fabrics to our collection in the coming weeks so please subscribe to the Croft Mill newsletter to be among the first to know when our collection is extended. Happy Halloween!