The Great British Sewing Bee 2022
The Great British Sewing Bee 2022
The Great British Sewing Bee is back for its 8th series on BBC 1 and we're so excited! This year there have been a few changes with a new host and a new location. Sara Pascoe has joined the well-loved team for her first year hosting the show after hosting the 2021 Christmas Special. She joins judges, Patrick Grant and Esme Young who are back for another series! There's also a change in location from the usual backdrop of London to a beautiful historical wool mill on the outskirts of Leeds – not too far from us!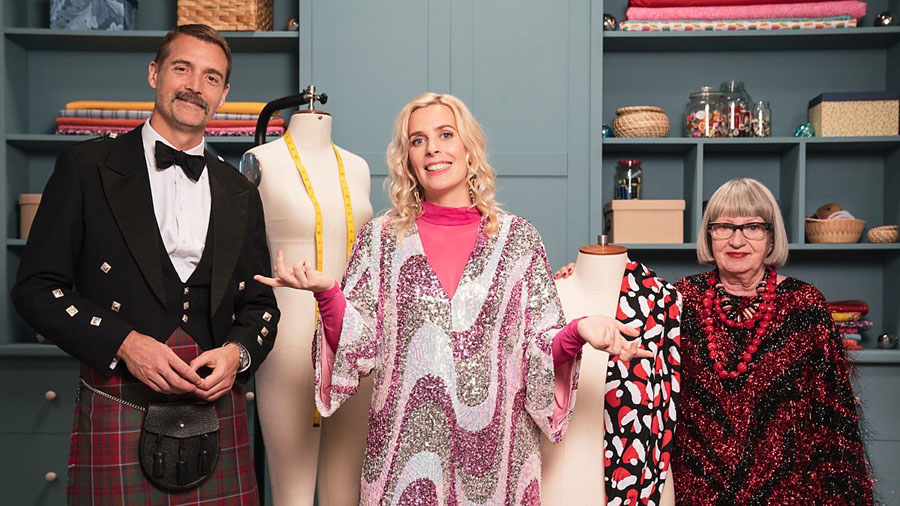 The show has brought 12 new home-sewers to our screens and we can't wait to see what they all create! The stitchers of 2022 are: Angela, Annie, Brogan, Chichi, Cristian, Debra, Gill, Man Yee, Marni, Mitch, Richy and Steve!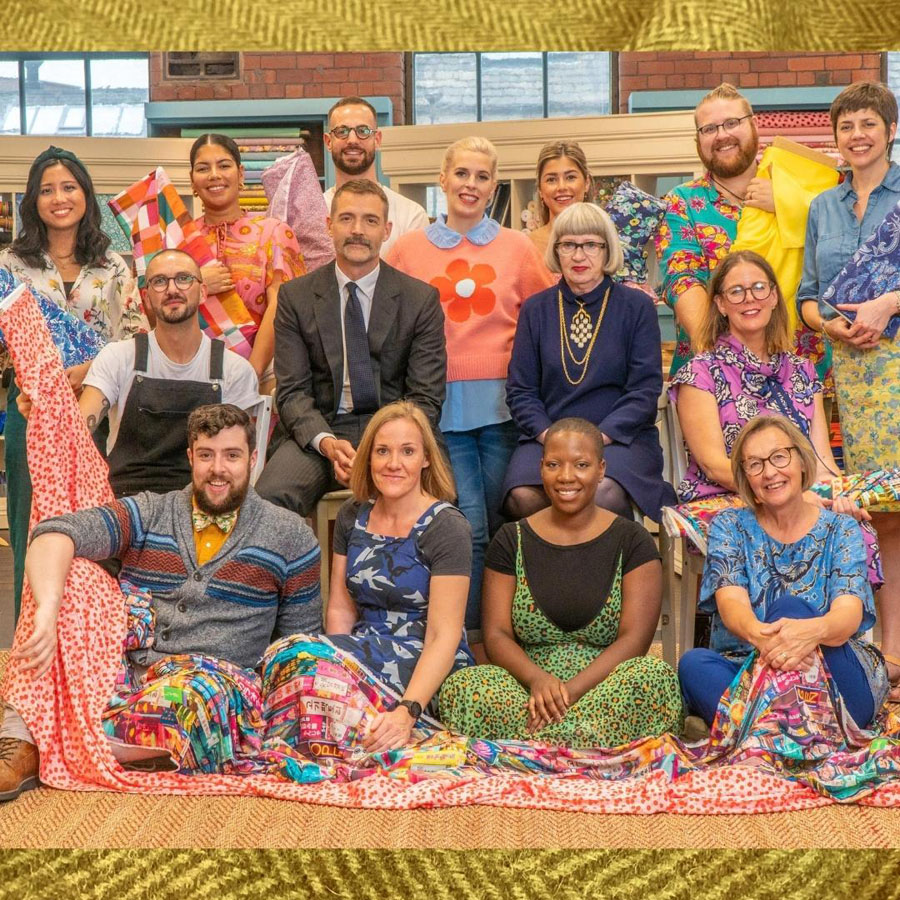 As of the 27th April The Great British Sewing Bee is back and will be shown every Wednesday at 9pm on BBC1 for 10 episodes – don't forget to add it into your calendars! Each week the contestants will battle it out to find out who will be the Great British Sewing Bee Winner 2022. The contestants each week will have to make a Pattern Challenge, Transformation Challenge and a Made to Measure Challenge to wow the judges! During the Pattern Challenge, contestants all get the same sewing pattern which they must follow exactly. The Transformation Challenge is all about up-cycling where contestants each get a second hand garment which they must creatively re-use to make a brand new outfit. The final challenge is the Made to Measure Challenge where contestants are really tested to produce a made-to-measure outfit for a real-life model! Each challenge is judged by the fabulous Patrick Grant and Esme Young and one sewer is crowned "Garment of the Week" whereas unfortunately one sewer has to be sent home!
Episode One – Capsule Wardrobe
In the first episode of the Great British Sewing Bee 2022 the contestants are tasked with creating a capsule wardrobe. The Pattern Challenge involved making a wool mini skirt followed by transforming a lockdown loungewear garment into a 'going-out' top in the Transformation Challenge. The final challenge had the sewers creating a fitted wrap dress to a model. All of the wrap dresses were beautiful – we'd love to have tried them on ourselves (maybe we'll sign up to model next year!). The Garment of the Week this week was Debra's Wrap Dress which was a fantastic design and pattern! Unfortunately, this week's unlucky contestant was Mitch (who was a Croft Mill favourite if we are allowed to have them). We were very sad to see him go home and thought he made an excellent effort in his makes!
Take a look at our Boiled Wools and Yaarkshire Wools to try and make your own wool mini skirt!
We think our Velour fabrics are perfect for recreating the loungewear to 'going-out' top transformation!
Our Viscose Challis fabrics would make an amazing wrap dress – just like the ones showcased on your screens!
Episode Two – Sportswear
Episode Two was all about sportswear! This week there was a first for the Pattern Challenge with the sewers having to make a pair of high-top trainers! Thankfully the sewers could use some of their own familiar techniques to produce the shoes but we imagine that must have been a hard challenge! Next was the Transformation Challenge where the contestants had to re-do a netball kit into chic daytime garments. The final challenge saw the home sewers stitch bespoke jackets which were inspired by their sporting heroes and don't forget this was the Made to Measure Challenge so it had to fit on a model too! We were so impressed with the creativity of the contestants and how amazing all the garments looked. This week, Patrick and Esme chose Marni's sporting jacket as the garment of the week – we thought this was a great choice! Unfortunately, the horrible time came where one of the contestants had to go home and this week we said goodbye to Chichi! We loved her makes and the amazing attitude she brought to our TV screens!
We have plenty of sports appropriate fabrics for you to recreate the looks you have seen on this week's sewing bee. Why not take a look at our Ritual fabric in teal and fuchsia or our Scuba fabrics.
Episode Three – Summer Clothes
This was another brilliant episode focusing on summer clothes! Full of fabulous designs and fabrics - it was really hard for us to pick our favourite make! But Brogan's Liberty Print Dress and Christian's Shirt and Short Showcase combo were definite highlights. Did you recognise the Toucan Fabric Stevie used? The Pattern Challenge included making a summery pattern midi dress using a shirring technique. Why not take a look at our gingham fabrics or small floral print fabrics to try and recreate your own! Next up was the transformation challenge where the contestants had to remake hammocks into a summer attire garments. If you want to have a go at the challenge why not try with some of our Heavy Cotton Canvas fabrics and see if you can master this! Finally was the Made to Measure challenge were the contestants had to make a two piece co-ord outfit for having fun in the sun! We've linked our Nautical Linen as we think this would make a great co-ord outfit for summer! The horrible time once came round again were we had to say goodbye and this week it was unfortunately Richie – we will miss his artistic and eccentric flare on the makes! This week's Garment of the Week was awarded to Debra's Lady McElroy Print Skirt and Top Combo – we loved the bright colours and style!
Episode Four - Reduce, Reuse and Recylce Week!
This week's episode was all about reusing and transforming unwanted items into beautiful new garments! The Pattern Challenge for this week was the quilted jacket pattern where the sewers had to make their coats out of 96 scraps of fabric! We absolutely loved Debra's quilted jacket - it was finished to absolute perfection! If you want to have a go at making your own quilted fabric why not take a look at our fabric bundles for a selection of fabrics to make you own patchwork look! Then to finish off why not take a look at our wadding and linings to bring the whole look together! We loved Man Yee's dedication to making sure her pattern matched perfectly! The transformation challenge involved taking two overcoats and combining and transforming them into one stylish coat! If you want to have a go at making your own why not take a look at our wool fabrics and cotton canvas fabrics. The final stage was the Made to Measure challenge where the contestants had to take old duvet covers and remake them into beautiful maxi dresses! We loved how the contestants really made the challenge their own and each dress looked completely different! We especially enjoyed all the bold prints that were being showcased! Why not take a look at our floral fabric or animal print fabrics to have a go at recreating your own! The end of the show came round once again and this week Gill's gorgeous red and white maxi dress was awarded Garment of the Week! Unfortunately, it was time to say goodbye to one contestant and this week it was Steve - we are very sad to see him go and we will miss his raw talent and artistic flare in the sewing room!
The importance of reusing and recycling fabric has always been a very poignant message to us with a large proportion of our fabric being ex-designer and any fabric remnants we have are always kept and used in either our Set Pieces or in our Fabric Bundles!
Get Ready for Episode Five - Children's Week!
Photo Credit: BBC/Love Productions/­James Stack⁠