Crafting Creative Clothes with Croft Mill Fabrics
There's nothing quite like the feeling of stepping out in clothes that you have lovingly made with your own hands. As you're going to be wearing them next to your skin, the fabrics you use for this purpose have to be of the very best quality and that's exactly what you'll find here at Croft Mill.
When you consider the fact that there are over 2,000 fabric options available from Croft Mill (with new ones being regularly added to our portfolio), it can be difficult to even know where to start. That's why we have included a wide selection of powerful filters to help you narrow down your choices; you can filter by type, yarn, width, pattern, theme, colour, brand, price and more!
One filter that our customers find especially useful is the one that allows you to select fabrics by intended use: options include different types of clothing such as dresses, skirts, trousers, jackets and suits. There are also special sections for fancy dress and bridal fabrics. We've picked out three of our fabrics that are perfect for crafting dresses, trousers and jackets...
Rayon is a manmade yarn and is manufactured via different process so it comes in many different guises such as Lyocell, Tencel, viscose, cupro and modal. Rayon is a great imitator of other fabrics and can be made to look and feel similar to silk, linen or cotton.
It is a popular choice for dressmaking because it has fluidity and can drape beautifully, it is also breathable and so comfortable to wear. It can also suit a wide range of budgets, from cheap to expensive depending on the finish and the brand.
Viscose challis is a lightweight dress fabric in plain weave; it comes in a fabulous range of plain and prints and is the perfect dress fabric. Please see our extensive range of rayon viscose dress fabrics here;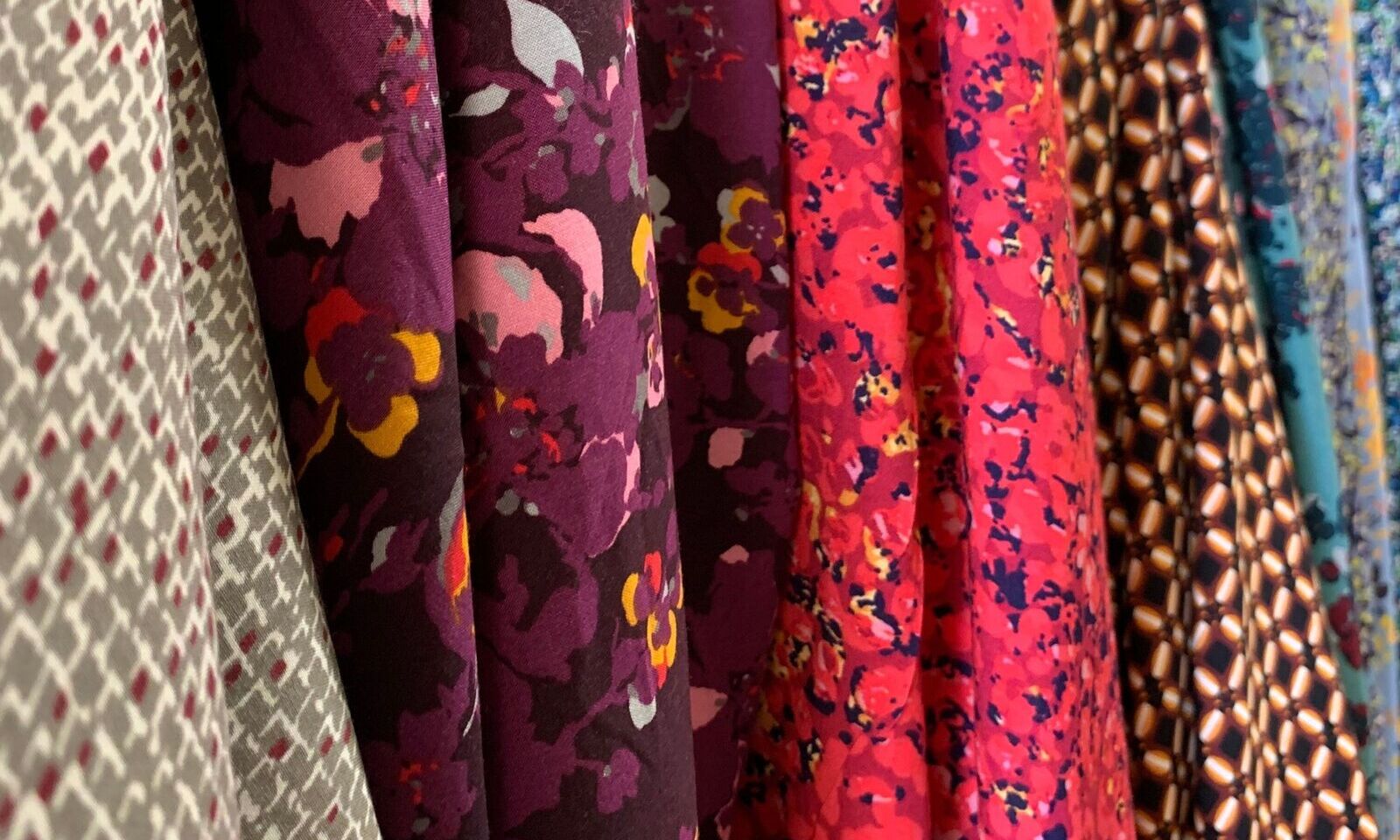 Corduroy in a classic gentleman's trouser fabric but it is also popular for jackets. Corduroy varies from 6 to 8 wale (ribs per inch), after that it becomes a needlecord with as many as 16 wales per inch. Needlecord is a favourite fabric for childrenswear. Cord fabric is typically made in cotton but can be made of polyester and have elastane to give it stretch so it can be more comfortable to wear. Our range of corduroy changes regularly and often have a lovely range so have a look here to see our plain and printed corduroy and needlecord fabrics.

Crepe fabrics are one of fashions favourite fabrics, versatile and often easy to sew. There are many different types of crepe; single, double, triple, and as you would imagine they get heavier he bigger the number. Triple is a heavy crepe and is an excellent option for fitted and casual jackets. Mainly woven in polyester or a viscose mix crepe hangs beautifully and wears like a dream. Why not explore our crepe dress fabrics here.

Due to popular demand, some of these colour/design options may be out of stock but you can request to be notified when we have replenished our supply: look for the 'Notify Me When Back in Stock' button on the relevant product page. Happy sewing!